Gift Certificates Available Upon Request
THE Seafood House East Peoria IL Wants
Are you a seafood lover? You will feel right at home at Lariat Steakhouse. In particular, if you enjoy cracking open some shellfish, you'll love our Alaskan King Crab, solo or coupled with filet. Don't assume that because we are a steakhouse we only serve steak. We boast some of the freshest local seafood you'll find anywhere in East Peoria or anywhere else. From our 20-ounce lobster tail to eight-ounce hand-cut fresh salmon, you'll leave here stuffed and happy. So, if you're craving lobster bathed in butter and broiled to perfection, check out our Lariat Lobster. We promise you'll be back for more. Or, if you want the best of both worlds, go with the juicy filet and lobster combo. That's why we are THE seafood house East Peoria IL wants.
Succulent Seafood Servings in East Peoria
Ready for some lunch or dinner? Either way, you can take advantage of the diverse selection of seafood we offer, cooked by the best chefs around. Made from the freshest ingredients, Lariat Steakhouse has all the seafood you could want during a special occasion, night out or just because. Here's a sampling of what we serve:
Catfish feast
Bacon wrapped shrimp
Broiled seafood combo
Tilapia
Crab ravioli
Jumbo shrimp
Salmon filet
Trigger fish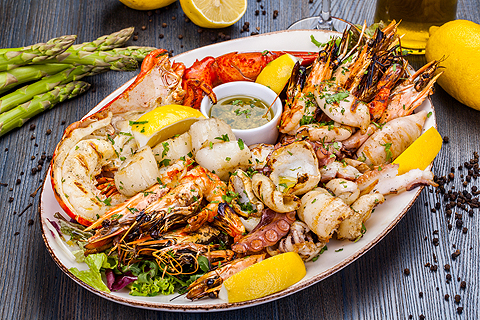 If you're visiting us for lunch and want something a little lighter, you'll want to try our flaky filet of fish sandwich, salmon salad or seafood salad. Add some grilled veggies and sides to your meal and you will be all set.
Everyone needs a little something to start off their meal. Try one of our delicious seafood appetizers, such as:
Shrimp cocktail
Hot crab artichoke dip
Bacon wrapped shrimp
Seafood sampler with smoked salmon, crab legs and shrimp cocktail
Contact Our Seafood House in East Peoria IL
Lariat Steakhouse, a family owned and operated local legend, is your source for seafood AND steaks. Call for reservations at 309-691-4731 or visit us for lunch or dinner at 2232 West Glen Avenue in Peoria, IL. We are serving all surrounding communities such as Pekin and East Peoria.