Lariat Steakhouse in Peoria IL: Your Destination for Succulent Steaks and Much More
Fresh ingredients…gourmet recipes…top-notch preparation by experienced chefs: this is Lariat Steakhouse. When you want steak done right, come to the steakhouse Peoria IL trusts for delicious, mouth-watering meals ranging from tender filet mignon and T-bone to rib and New York strip steaks.
Rooted in the Community
Lariat Steakhouse, established in the 1940s, is a multi-generational family-owned business, with deep roots in the Peoria area. In fact, we're one of the original restaurants in the community. Our legendary one and a half pound prime rib, 8 ounce hand-cut fresh salmon, and 20 ounce lobster tail will have you coming back for more. We're everything a steakhouse in Peoria IL should be, featuring a rustic and welcoming atmosphere, hearty dishes, attentive service, friendly family treatment, and prime cuts of meat that are always fresh.
A Taste of Our Menu
We're well known for our steaks, setting the standard when it comes to tantalizing the taste buds of our meat lovers. In addition to the prime cuts like filet and prime rib (dubbed "One of Peoria's Best") , we also offer a variety of BBQ baby back ribs, pork chops, fried chicken, and even bacon wrapped meat loaf. And if it's seafood you crave, we offer fresh salmon filet, lobster tail, tilapia, jumbo shrimp, and catfish.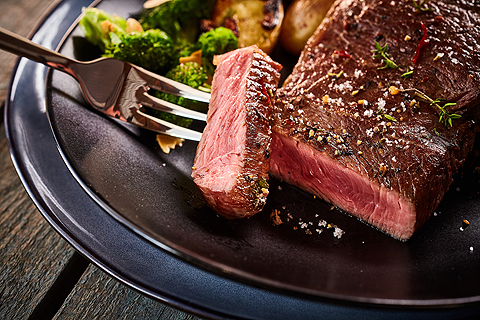 Our menu also offers diners a comprehensive lunch and dinner selection ranging from the traditional to daring. And with such a diverse range of menu items, from sides and salads to pasta and everything in between, Lariat Steakhouse has something for everyone. Bring the whole family: even the picky eaters!
Contact Us
Lariat Steakhouse in Peoria IL is your destination for fresh ingredients, tasty dishes, time-tested chefs and the best service around. Feel free to browse our website, call us at 309-691-4731 or just come visit us for lunch or dinner at 2232 West Glen Avenue in Peoria, IL. We look forward to serving you soon!