Lariat Steakhouse: The Steakhouse Pekin IL Travels To!
Located a quick 10 miles from Pekin IL, Lariat Steakhouse is a tempting destination for residents who don't mind hopping in the car for a 15-minute drive to treat themselves to a mouthwatering steak with all the trimmings. Here at Lariat Steakhouse, we pride ourselves on the freshest ingredients, experienced chefs who know their way around a kitchen, a comfortable atmosphere and the friendliest service.
We believe eating out is about more than just food. It's about making a connection with others, enjoying the total experience, and creating memories. Our restaurant is the steakhouse Pekin IL trusts to deliver on promises of large portions seasoned and cooked to Old World perfection, top-notch preparation and wait staff that truly wants to create that memorable experience for our diners. Established in the 1940s, we are legendary for our one and a half pound prime rib, 8 ounce hand-cut fresh salmon, and 20 ounce lobster tail!
Menu Offerings: From Steak to Seafood and Beyond
It's no secret we prepare the best steaks in town (after all, our prime rib is known as "One of Peoria's Best"), setting the standard when it comes to tantalizing the taste buds of our meat lovers in Pekin IL. But we also cater to those who love a good piece of salmon or catfish, a leafy salad loaded with protein, veggie wrap bursting with fresh flavor, or a good old fashioned burger.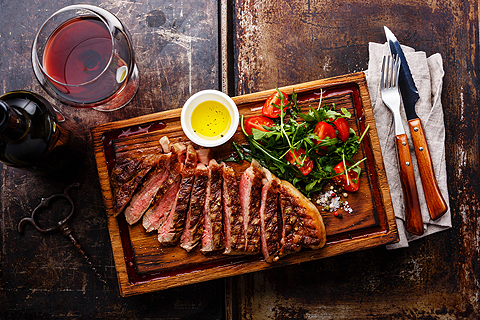 With a comprehensive lunch and dinner that appeals to all tastes, we make it easy to please everyone in your party, whether you're on a first date, treating the family, or meeting up with a group of long-time friends.
Contact Us
We want to become the premier dining spot and special occasion steakhouse Pekin IL residents trust and enjoy for a great meal out. Come to Lariat Steakhouse for the atmosphere, fresh ingredients, tasty dishes, and talented, innovative chefs. Give us a call at 309-691-4731 or just come visit us for lunch or dinner at 2232 West Glen Avenue in Peoria, IL.