Lariat: the Steak Restaurant of Choice in Peoria IL
Steak is an art. It has to be grilled to perfection, with just the right amount of tenderness and flavor. Not everyone can do steak. Here at Lariat Steakhouse, steak is what we do. Experience the difference with our prime rib (find out why it's called "One of Peoria's Best"), filet mignon, T-bone, top sirloin, and New York strip steaks. If you've been searching for the ultimate steak restaurant Peoria IL, you've come to the masters.
We know you deserve to enjoy the freshest ingredients and prime cuts of meat that are always fresh — never frozen. We also believe food should bring families, friends, and co-workers together in one place to feast on mouthwatering gourmet meals, share memories and create new ones. With generous portions and robust dishes, you never leave on an empty stomach after lunch or dinner at Lariat Steakhouse.
Our steak restaurant in Peoria IL is known for our legendary one and a half pound prime rib, 8 ounce hand-cut fresh salmon, and 20 ounce lobster tail. In addition to amazing food, you get attentive service, friendly faces, a welcoming atmosphere, and the star treatment when you join us for a meal.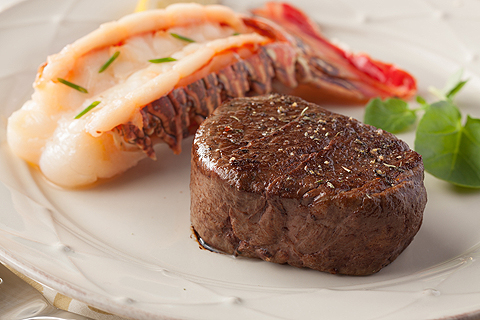 What we Offer
Sure, you come to us for steaks – that's a given. But those aren't the only meats we offer. Come to us for BBQ baby back ribs, pork chops, fried chicken, and even bacon wrapped meat loaf. If seafood's more your thing, try our salmon filet, lobster tail, tilapia, jumbo shrimp, catfish or Alaskan king crab legs cocktail. Bring every member of your family to our table, no matter what their tastes. Chances are, we have something to please every palate, from pasta and salads to sandwiches and grilled veggies. Come for lunch or try us for dinner. Either way, you'll leave happy and satisfied.
Contact Us
Lariat Steakhouse is happy to be the steak restaurant Peoria IL visits for a satisfying, hearty meal. Call for reservations at 309-691-4731 or just pop in for a visit at 2232 West Glen Avenue in Peoria, IL.